Details
Blog: HERS Certification
HERS (Home Energy Rating System) analyzes the energy efficiency of a home. We had one of our spec houses rated in January and the results were fantastic! According to the report by Ron Hughes with Home Energy Rating & Developer Services:
Attached is the energy rating report on your house. You asked how you were doing. You are doing well. Well indeed! A HERS Index of 60 means you are 40% more energy efficient than Arkansas' energy code. Your house passed the 2009 IECC which exceeds the Arkansas Energy Code. Your house will cost $618/yr. less to operate (heating, cooling, lights & appliances and water heating) than an "average" house with a HERS Index of 130.
The brick "Bellewood" house at 1104 Essex Dr is 1986 sq ft with a stunning vaulted ceiling, three bedrooms and two bathrooms. We foam insulated the roof/attic and walls and used Low-E windows, insulated exterior doors, tankless gas water heater, and zip wall system (moisture barrier). We also took extra care to caulk and seal cracks and nail holes for an extra tight home.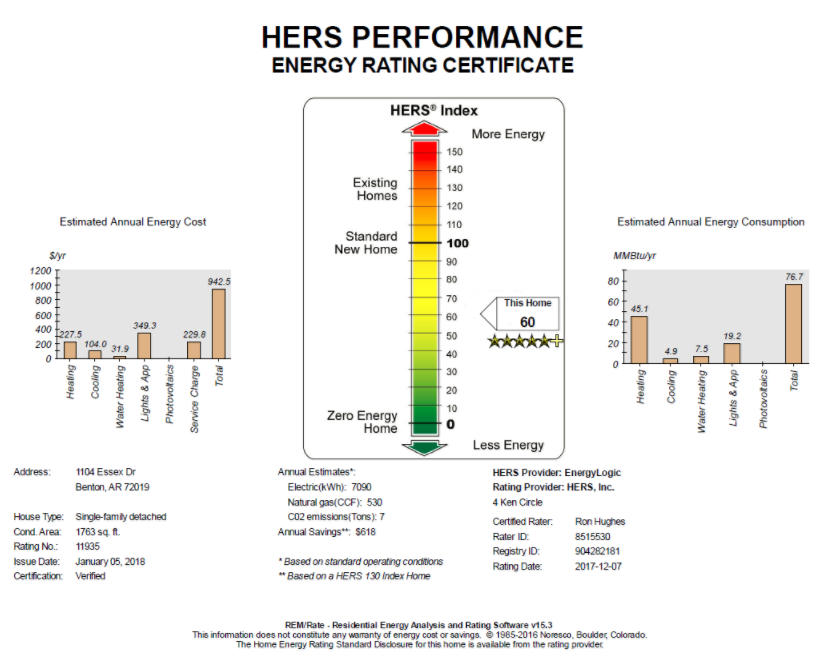 For more information on home energy rating and how the HERS index works, visit this link. For a video on the HERS index, watch the YouTube video below.