AT&T Fiber Internet Capabilities
From AT&T's Website, AT&T Fiber: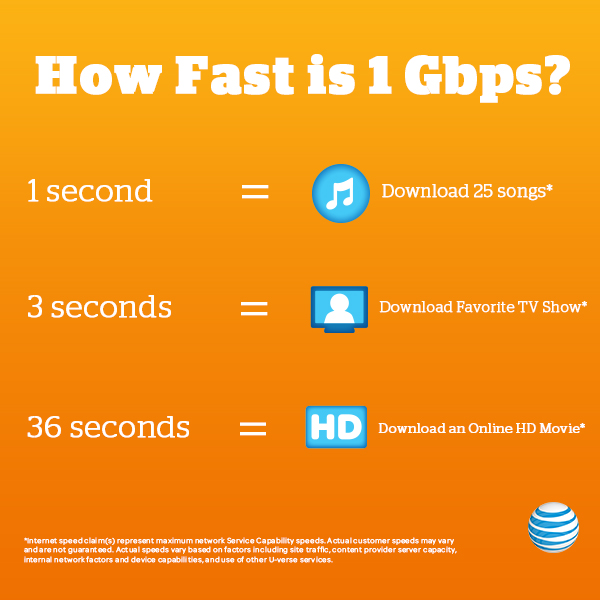 AT&T Fiber is our premium, ultra-fast Internet platform.
Our 100% fiber optic cable network delivers Internet starting with a 1000Mbps connection.† You'll get a lot more done with a lot less waiting! AT&T Fiber delivers a reliable, fast Internet connection so you can stay online to do the things you love. Plus, AT&T Internet 1000 subscribers get our latest Wi-Fi technology with expanded coverage to maintain faster Wi-Fi speeds throughout your entire home and support for all of your devices.
It uses cutting edge, 100% fiber technology.
The fiber optic cables in our network send higher volumes of information over much longer distances than the current copper cables you're probably used to. This allows the data that makes up your favorite websites, streamed videos and online games to travel to your devices at ultra-fast speeds on a reliable connection.
Internet starting with a 1000Mbps connection means less waiting or buffering, on all of your devices.
As you connect more devices to the Internet, you'll need higher bandwidth or capacity to use all of your devices simultaneously without sacrificing speed. In today's reality, people need to connect TVs, laptops, smartphones, tablets, printers, home security systems, game consoles and more all at the same time. With AT&T Internet 1000, not only will you be able to use all these devices at once, but your download and upload times and streaming quality will allow you to do more in less time.